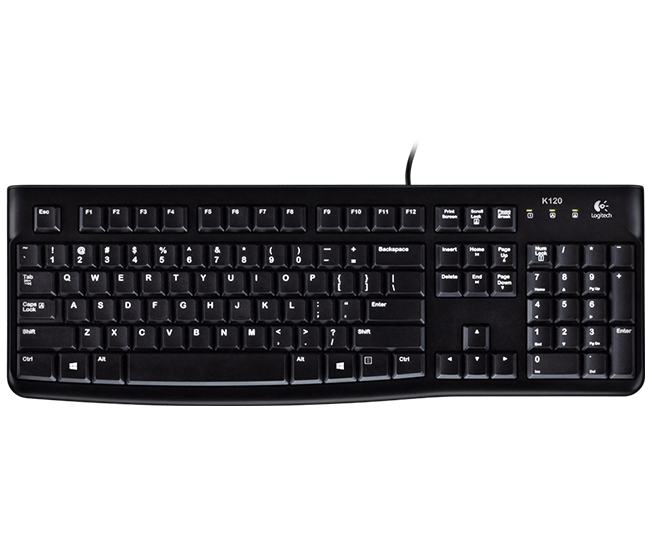 Rating:
5 out of 5
Pros:
Slim, sleek, light-weight, durable and comfortable
Cons:
None
When I purchased my new Logitech M515 Wireless Mouse a few months ago, I picked up this black Logitech K120 Keyboard to go along with it. My old Lite-On Keyboard was still functional after about 5 years, but a couple of it's buttons were wearing out and the rubber feet on the bottom were coming off, so it was due to be replaced anyway. There were a few things about the Logitech K120 Keyboard that persuaded me to purchase it instead of another keyboard.
First of all, it's a standard 104 key QWERTY keyboard. It has full sized function keys and no extra random buttons such as sleep, media controls or power buttons. I really don't like keyboards with those extra buttons, as I often find myself inadvertantly hitting them. It's really annoying when you're in the middle of something and accidentally put your computer to sleep or turn on some blaring music while someone is trying to sleep in the next room. The keys press firmly and quietly, and it's a pretty comfortable keyboard to type on.
The Logitech K120 is not a large keyboard. It's sleek, slim and light-weight - measuring about 18 inches long, 6 inches deep and 3/4 of an inch tall. The keys are only about a quarter of an inch tall, which I really like as it reduces key travel by about 50% compared to my previous keyboard. I type over 100 words per minute, and I really like when a keyboard doesn't become a limiting factor. There's also not a lot of extra space or trim around the keyboard, and there's none at all between the groups of keys. Keys that are closer together help to promote faster typing because they reduce the distance you have to move your fingers to get from one key to another.
The space bar is slightly curved at the bottom, making it a little deeper in the middle so it's easier to hit from different hand positions. It's not oversized, but that slight depth increase is definitely beneficial to me. The keys are durable and are supposed to last up to 10 million keystrokes - excluding the number lock key for some reason. The white characters are bright, bold and easy to read. The Logitech K120 Keyboard also features a spill resistant design, where liquid drains out of the keyboard through 2 small slots in the bottom.
The keyboard lays nice and flat, but also has a pair of plastic feet on the bottom that can be flipped down to raise the back of the keyboard an additional 3/4 of an inch. This tilts the keyboard about 8 degrees forward, and this is how I use my keyboard because it feels more comfortable and I don't have to lean forward far enough to be directly above the keyboard. The feet are just thin plastic, but they seem pretty durable and after a few months of usage I don't foresee having any problems with them. These plastic feet, as well as the bottom of the keyboard itself, have little pieces of rubber on the bottom to help keep the keyboard from sliding around on your desk.
Inside the retail box was a getting started guide (which was rather humorous as the only things it said were to turn the computer on and plug the keyboard in), an information sheet with various warnings about LEDs, lasers and warranty information, and the keyboard itself. The 5 foot long USB cable was neatly folded up, twist-tied and tucked under a cardboard flap to keep it from banging into the keyboard during shipping, and the whole keyboard was wrapped in a plastic bag to keep dust and dirt out.
Like most Logitech products, the K120 is backed up by a 3 year warranty. I have no trouble believing that the keyboard will still be in use long after the warranty is expired.